Welcome to the MinPinTalk public forum. You can use this board to ask questions about Min Pins, give advice or share stories.
~*~*~*~*~This message board is NOT TO BE USED to sell puppies! All messages pertaining to looking for a "stud", Selling Puppies, or asking any questions at all in regards to breeding your pets will be deleted at once!! This board will not be used as a clearing house for Back-Yard-Breeders to peddle their puppies or advertise their irresponsible Breeding practices!!~*~*~*~*~
To Enter, Click on the button below.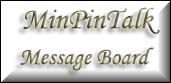 I want to thank all the members of MinPinTalk for their help and support for this project. Without the wonderful members of this e-mail group this website would have never been possible. To learn more about MinPinTalk and the over 600 members that make it the online family that it is Please visit What is "MinPinTalk?". I hope this website has helped answer a few of your questions about Miniature Pinschers.
Click Here To Join MinPinTalk